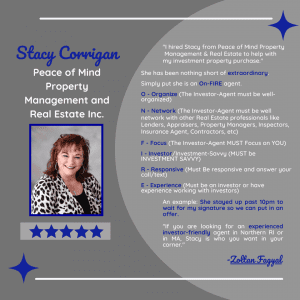 I hired Stacy from Peace of Mind Prop. Mgmt & Real Estate to help with my investment property purchase.
She has been nothing short of extraordinary.
Simply put she is an On-FIRE agent.
O – Organize (The Investor-Agent must be well-organized)
N – Network (The Investor-Agent must be a well network with other Real Estate professionals like Lenders, Appraisers, Property Managers, Inspectors, Insurance Agent, Contractors, etc)
F – Focus (The Investor-Agent MUST Focus on YOU)
I – Investor/Investment-Savvy (MUST be INVESTMENT SAVVY)
R – Responsive (Must Be responsive and answer your call/text)
E – Experience (Must be an investor or have experience working with investors)
An example: She stayed up past 10 pm to wait for my signature so we can put in an offer.
If you are looking for an experienced investor-friendly agent in Northern RI or in MA, Stacy is who you want in your corner.
-Zoltan Fagyal
 131 Linoln Street, Woonsocket, RI 02895