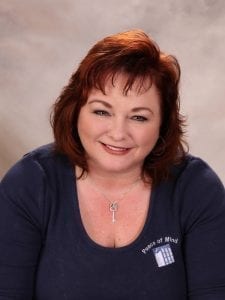 Stacy Corrigan is Peace of Mind's Principal Broker and the President, Secretary, Treasurer, Lead Dog Walker, and basically, she wears almost any other hat you can think of.  Stacy has been in the Real Estate Industry since 1995 when she managed her former boss's 63 units in Roxbury.  That's where she caught the bug for Real Estate Investing.
Needing to become a Broker to begin her Property Management business she started in 2008, Stacy attended Real Estate School and passed her exam on the first attempt.  Apparently, a rare feat.  Stacy and Mario were already Real Estate Investors in Woonsocket, owning 26 units, and after helping her sister and brother in law purchase two investment properties in town, Stacy found a new love in building the Real Estate Sales side of the business.
Stacy has an extremely strong sales background, building a Mary Kay business to the point of being a Senior Sales Director, having produced several offspring Directors, purchasing her first investment property with her commissions, earning two free cars and several Diamond rings as rewards for her sales efforts.  Her most treasured reward though was positively impacting the lives of the women she mentored.
Stacy brings Mary Kay's strong values to her Real Estate Brokerage.  She puts family, fun, and flexibility first and values People before Profits.  Stacy also practices the Golden Rule, of treating others as she would like to be treated, Mary Kay's most treasured belief.
Stacy has built a phenomenal brokerage one step at a time, building strong systems and processes, and not building too quickly so she can provide outstanding service to every client.  While it's not always possible to make everyone happy all the time, Peace of Mind boasts a 96% satisfaction rate based on the feedback and testimonials we have received.
Stacy has built a brokerage with her family.  Mario is her life partner and Jimmy is her brother in law, and she has managed and sold properties for many, many family members.  However, the Peace of Mind team and ALL of our clients are part of our extended family and we hope we get to include you as part of our family soon!